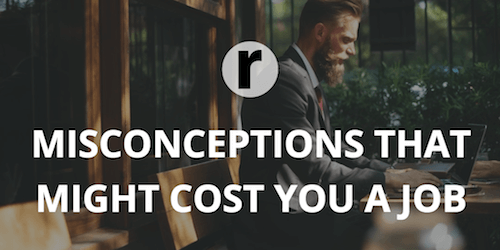 Are you a first-time job-seeker? Or maybe you're looking for a new job? Whatever the case, you should definitely know what NOT to do when it comes to job-hunting, and be wary of common misconceptions that prevent successful employment.
Many job-seekers often find themselves committing the same mistakes over and over again, thus hampering their quest to find their dream job. Resumance has rounded up some practical tips to ensure that everything is good with your resume before you turn it in to an employer.
A good resume guarantees you a job
This is a common misconception among applicants, because many believe that their resume is the key to successful employment. In many cases, this isn't true. Sure, a well laid-out resume may just give you a pass for an interview but in order to get hired, you need to ace the interview with the employer.
According to career advisers, it's important to highlight your achievements in your resume, in order to attract HR attention. During the interview, make sure to mention these achievements in detail, to confirm your successes and show the benefits this can bring to your potential employer.
You can send out the same resume to all companies
Have you been sending out a few dozen CVs to different companies, on a daily basis? Then we bring you bad news, because this tactic is basically a waste of time and effort.
Sending the same type of resume to various potential employers seems like a good way to get several interview invitations but in most cases, nothing good comes out of it. If you want your job-seeking efforts to be fruitful, you need to adapt your resume according to the requirements of a specific company.
During the interview, speak with the employer in one language, using the same vocabulary as them, and emphasizing on important points like the qualities they're looking for in an applicant. All of these can easily be understood if you carefully read the job description prior to the interview. Following this approach, you can effectively distinguish yourself from other competitors.
Mentioning work gaps in your resume will lower your chances to get hired
Because of the current situation in the labor market, a lot of applicants take a break and spend at least half a year before finding work. This creates work gaps that could affect the quality of their resume.
But in some cases, these gaps may actually interest the recruiter. You don't necessarily have to write about them in your resume, and indicate specific periods when you didn't work and were engaged in something else.
According to recruiters, it's best to explain about these work gaps in your cover letter. Even better, explain them in full detail to the employer during the interview.
You must send your resume to everyone
A lot of job-seekers think that they'll get hired faster if they send out their resume to all companies with a job opening. Unfortunately, this tactic doesn't do much beyond wasting your time.
Remember that there could be hundreds of other applicants competing for the same position, and a hiring manager doesn't have all the time in their hands to read through everyone's CV. If you turn in a bad one, chances are they'll just throw them into the bin. According to some experts, a much better job-hunting strategy would be to focus on a select number of companies and adapt your resume according to their requirements. Figure out which direction you'd like to take, and make a list of 5 to 10 companies that pique your interest.
With a conscious and targeted approach, you'll be able to come up with a better, well laid-out resume. Once you're set, your next goal is to prepare for the interview and ace it.
You must include all previous workplaces in your resume
Sure, this may work depending on the situation at hand, but remember that recruiters spend no more than a minute scanning through each applicant's resume. They simply don't have the time to understand all the intricacies of an applicant's career path so if your resume has more than two pages, you risk overwhelming the employer. They might just end up closing your CV and not bother with it.
The rule of thumb in drawing up a resume is, less is more. If you've worked for various companies, it's better to include only those that are directly related to the position you're currently applying for. In short, your resume should only contain relevant information that the employer needs or may find interesting.
Posted by Abigail Jackson
Abigail Jackson is the Editor-in-Chief at Resumance. After earning her degree in Psychology and working for several years as a career adviser, she is now working as an independent career consultant and a seasoned resume writer. You can get in touch with Abigail on Twitter @theresumance.