Last Updated: February, 2021

Abigail Jackson
ResumePrime.com has a strong proposition: 'A resume that'll take you to the prime spot'. And they seem to be holding on quite well to this premise, as they're one of the most trusted resume writing services in the market. They're everything you'd expect from a premier writing service: Highly trained resume writers and career experts who will tailor a resume for your specific field, fast turnaround time, client-oriented customer service, and reasonably priced packages.
As if their offerings aren't already impressive, they even have solid money-back guarantee and revision policy in place. Customers are entitled to unlimited free revisions until their order is finalized. Read our ResumePrime review for more information.
Phone: 1 (888) 846-9272
Price from: $110

Wide Range of Resume Writing Services at ResumePrime
To help you decide, ResumePrime offers different types of writing services that are tailored for both students and professionals. Below are the packages currently being offered:
Student services for individuals who are looking to present their potential and pass any college or graduate school admission tests/programs.
Entry Level writing services for those who are just about to start a professional career.
Professional services for industry experts who are taking the road toward career growth.
Executive writing services for C-Suite and Senior Management execs who want to showcase their top qualities.
Military Transition services for applicants who want to highlight their transferable skills and experiences to impress potential employers, while in-service.
Federal writing services for those who want to improve their chances of getting a federal government job.
Services That Get You More Bang for Your Buck!
ResumePrime won't leave customers disappointed, as they offer resume writing services that are well within everyone's budget range. Choose from 6 different packages, such as Student Resumes, Entry Level Resumes, Professional Resumes, and more.

Prices start at $110 for Student resume writing services, with rates raising in increments for Professional and more high-caliber resumes. With their promise to get you that much-awaited job interview, you'll have peace of mind knowing you've invested on the right service.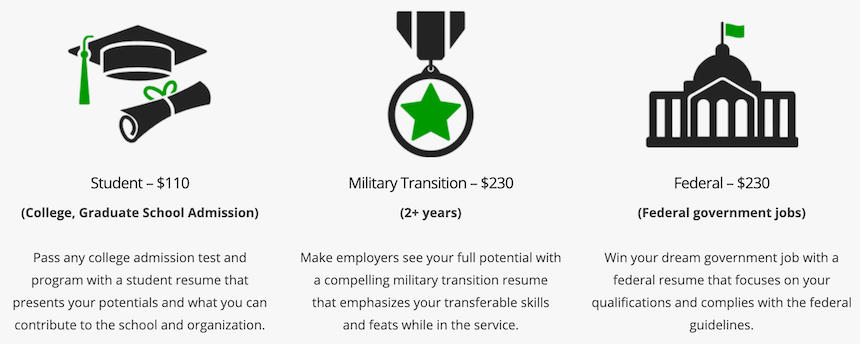 Fast, Easy, and Secure Payment
With a wide range of payment methods to choose from, ordering from ResumePrime.com is fast and simple. You can pay using major credit and debit cards like Visa, MasterCard, Discover, and American Express. A big plus is that they cater to PayPal users, as well.
All transactions are verified and secure, and the company ensures all personal data are kept safe.
Get Your Resume Delivered in No Time
Many companies take about 5 days (or more) to finish an initial draft of a resume, but the professionals at ResumePrime can deliver it to you within 3 business days. But when a client requests for a rush service, they put the order on their priority list and will work on it in as fast as 48 hours.
There's no need to worry about the quality because this company has writers that are specifically trained to deliver efficient results at the shortest amount of time.
Navigable and User-Friendly
The ResumePrime team has put much thought on their website design. Just like the resumes they produce, their website is clean, modern, and professional. All the necessary information is easy to access and clearly laid-out. They even have a dedicated FAQs section for commonly asked questions. They also showcase high-quality resume samples for various types of writing services they offer. This makes it easy for clients to know and understand that they're dealing with true professionals.
Clean Reputation
There aren't a lot of customer feedback online, making it difficult to judge the overall quality of ResumePrime's services. However, the few expert and customer reviews we have found are generally positive, noting that the company has indeed lived up to their promise of getting them a job interview with their resume writing service.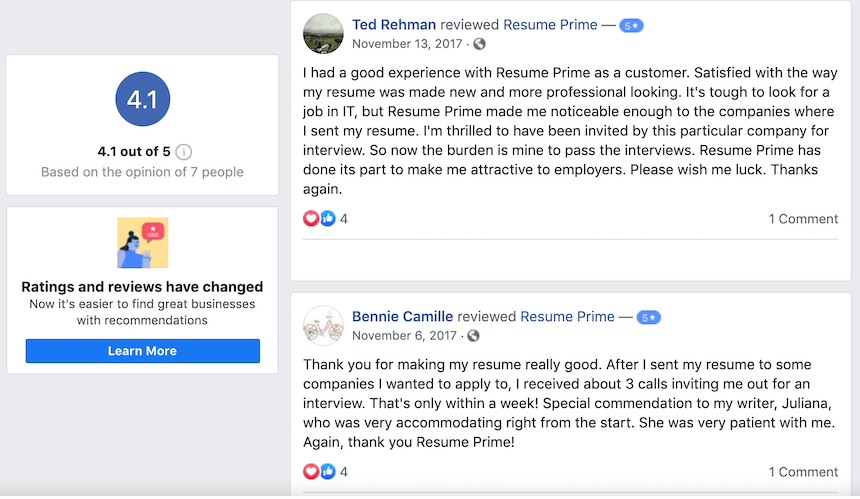 No news means good news, and customers are obviously getting what they want from this company. They could, however, benefit more from having profiles at trusted third-party review sites like TrustPilot and SiteJabber.
Editor's Note
ResumePrime.com is every job-seeker's best choice, regardless of their career level, job experience, or industry. They also extend their services to students, which is uncommon for this type of service. But this makes them an ideal choice for college students, as well.
In the many years they've been in the industry, ResumePrime has accumulated a solid customer reputation. They are well-known for their skilled resume writers and career aficionados, and an all-around stellar customer service. So if you need the help of a highly regarded resume writing service, you're in good hands with ResumePrime.com.
Reviewed by Abigail Jackson
Abigail Jackson is the Editor-in-Chief at Resumance. After earning her degree in Psychology and working for several years as a career adviser, she is now working as an independent career consultant and a seasoned resume writer. You can get in touch with Abigail on Twitter @theresumance.