Last Updated: February, 2021

Abigail Jackson
ResumeValley.com is not your run-of-the-mill resume writing service provider, mainly because they offer a minimalistic list of services. But don't get the wrong impression. By not bombarding customers with tons of options, the company is able to prove their commitment to quality – and at staggeringly low service rates.
They have a roster of proficient resume writers who have mastered career-targeted and skills-focused writing styles. Time and again, their team has proven that they can help customers acquire a stellar resume or curriculum vitae (CV) in the simplest, most effective way possible. Read our ResumeValley review to find out more about their services.
Phone: 1 (877) 780-7377
Price from: $69

Career-Focused Resume Writing Services at ResumeValley
As mentioned earlier, the list of services at ResumeValley is limited, but they have some of the most affordable rates in this line of business. The three packages being offered are:
Civilian Resume service for those who need an exceptional resume to apply for a job in the civilian sector.
Curriculum Vitae service for professionals who are looking to acquire an in-depth CV to apply for scholarly jobs.
LinkedIn Profile service to help those who need to boost their online reputation with a professionally written profile.
Affordable Packages – Plus Discounts!
Prices at ResumeValley are surprisingly cheap, starting from $69 for their LinkedIn Profile writing service. But upon further research, we found numerous add-on features (called 'job tools') for each package – averaging at $25, depending on your chosen add-on. These include cover letter, thank-you letter, reference page, electronic resume, and more.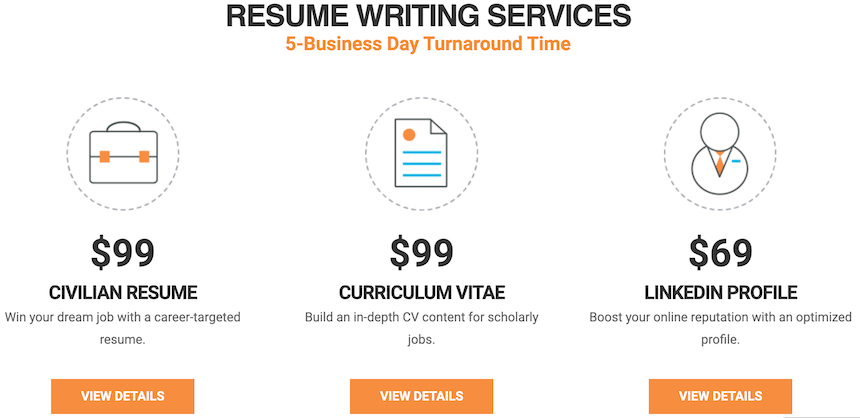 Many customers might not need these extra features at all but if you do, the price you'll pay will most likely double, which can make their package more expensive than a typical writing service package. On the upside, the company does offer some generous discounts and promos which can bring the total price down for 20%. They'll even offer cover letter writing for FREE, as long as you like their Facebook page.
Simple and Secure Payment Options
You will first have to fill up their order form or contact customer support before you can get a list of payment options, which could be a hassle to some. However, ResumeValley.com ensures that all their customers can choose from various payment methods, including Visa, Mastercard, American Express, and Discover. They even accept payment via PayPal and wire transfer, which is convenient.
Fast Delivery for Prime Service
The turnaround time for their writing services is 5 business days. There doesn't appear to be rush writing available, unless special arrangements are made by the client. This is because ResumeValley is committed to delivering top-quality products, with their writers carefully reviewing and digging into their client's skills in order to match their target career.
A Solid Online Reputation
ResumeValley has been in business for quite some time now, building a strong reputation in the resume writing industry. They are committed to transparency and to prove that, they have even provided a legitimate address to their US headquarters.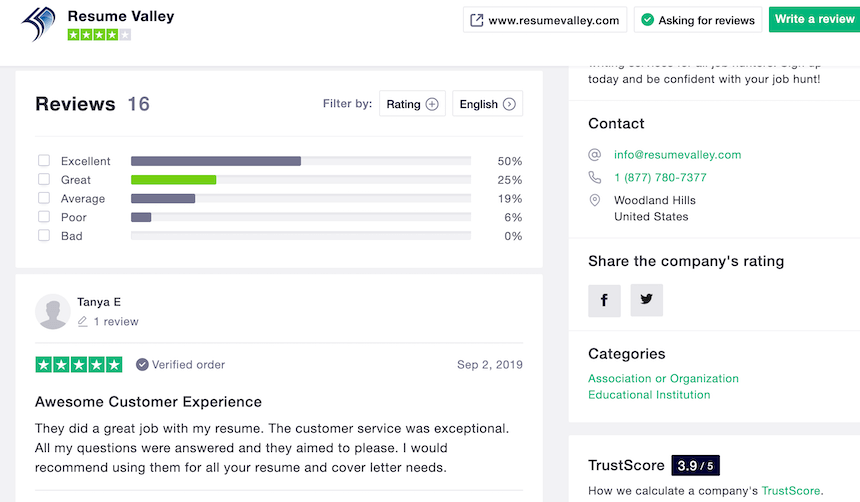 Additionally, they have a profile on verified third-party review sites like TrustPilot, where real customers can provide feedback on their experience working with ResumeValley. Upon investigation, we found that they have received mostly excellent reviews, with customers who are satisfied with well-written resumes and CVs. Some are also pleased that the writers keep an open line of communication, allowing them to keep track of the progress of their orders.
A Minimalistic and Client-Friendly Website Design
One of the great things about ResumeValley is their website, which comes with a minimalistic yet professional-looking design. Obviously, the company aims to focus on accessibility and to give immediate answers to questions. They even have a dedicated section for showcasing samples, so potential customers can get a glimpse of their writers' capacity to produce exceptionally written resumes and CVs.
For orders, all you need to do is to click on the service you need, fill up the form, and you're all set. Everything is straightforward – no complicated tasks and confusing options to choose from.
Editor's Note
ResumeValley is a great example of how simple yet professional a resume writing service can be. They boast a team of expert career specialists who are ready to help you tailor a resume or CV that potential employers surely won't be able to resist. To date, they remain to be a popular choice among those who need high-quality resumes or LinkedIn profiles, but are on a tight budget.
While they certainly don't deliver the fastest possible outcome, this company remains to be exceptional considering their price. And thanks to their minimalistic website, they have the upper-hand for users who are not familiar or don't require advanced writing services. I recommend them without reservations.
Reviewed by Abigail Jackson
Abigail Jackson is the Editor-in-Chief at Resumance. After earning her degree in Psychology and working for several years as a career adviser, she is now working as an independent career consultant and a seasoned resume writer. You can get in touch with Abigail on Twitter @theresumance.