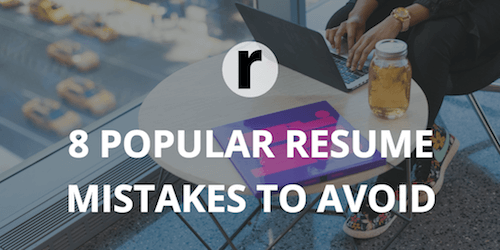 Every day, thousands of new resumes appear on job sites and on employers' desks. Each of these resumes tells a different story. And the more candidates apply for a job opening, the harder it gets for employees to choose just one.
If you want to truly stand out from the crowd, Resumance came up with a list of common resume mistakes you should avoid at all costs.
Work Responsibilities and Achievements
Let's begin with the main highlight: Responsibilities and achievements from your previous (or current) workplace. This covers what you're directly engaged in and what you've achieved at work.
There's no need to rewrite job descriptions that appear too generic. For employers, this is a lot like a broken record - it's boring! Hundreds of thousands of applicants write this way. Find your "schtick" and be unique. If you're an accountant or marketer, describe your job in a way that will grab an employer's attention.
Basic Education
For recruiters, the prestige of your university is far from paramount - or at least it's not always the case. What truly matters is the knowledge and expertise you've gained at the course of your studies. How can you apply them in practice? Were you able to finish college or university with flying colors, thus completing one of life's important milestones?
As such, you can't just stop at writing the name of the school you've graduated in and the terms of your study. Go beyond by adding a few details like your achievements as a student.
Additional Education / Studies
If, say, you're applying for the position of an accountant, it doesn't make sense to mention the yoga courses you take on the Additional Education section of your resume. It's distracting and unnecessary to boot. Of course, it's not bad to show an employer that you're a versatile person but there's a better way to tell them about it. Consider saving this information for the actual interview, if you're ever invited to a meeting and get asked about your hobbies or interests.
Professional Skills
Here is where things get interesting. You'll probably get shocked or disappointed, but being adept at working with MS Office, Google, or a printer isn't exactly going to impress recruiters.
It's 2019 and you've probably been living under a rock this whole time if you don't know how to work with gadgets or MS Word. Otherwise, how could you even come up with a resume? For office staff, it's plain ridiculous to brag about this and consider it a "skill". And if you're applying for the position of a driver or electrician, they're not necessary, so do not mention them in your resume.
Additional Information
Our advice: If there's no pertinent information that you'd like to let the employer know, there's no need to write anything at all. Writing nothing is better than inflating your achievements or worse, lying about them.
No Recommendations / References
While it's not a big mistake, it may be a minor flaw on your part. If you've had previous job experience(s), why not use them as references? As long as you've been a good employee, don't hesitate to ask for advice from former employers. Write the name, position, and contact information of the person who can recommend you or become a character reference for when a potential employer wants to know more about you. This is a perfectly acceptable practice which, at the right time, will play into your hands.
Of course, don't forget to ask permission first before making someone your reference.
Formatting
Now that we've covered the contents of a resume, it's time to move on to the format and appearance. For starters, you must answer the question, "How can you easily perceive written information: In a structured form or in solid text without paragraphs, indentations, lists, and/or tables?"
Fill each section separately and appropriately. No employer wants to search for a grain of information in a heap of sentences and phrases.
Multiple Jobs
Were you a marketer, managing assistant, office manager, and journalist at the same time? It's something to boast about, sure, but it can be overwhelming for the employer if not presented to them properly. You may be thinking it's better to just kill two birds with one stone, by creating a single resume for all job openings. In truth, you'll just confuse the employers!
Don't do it this way. With a poorly prepared work summary, a potential employer may think you're not really set on working for the specific job position being offered. And since you're a Jack of All Trades, you may not be a specialist and will agree on a low salary. So remember: One resume that's tailor-made for a specific vacancy!
Posted by Abigail Jackson
Abigail Jackson is the Editor-in-Chief at Resumance. After earning her degree in Psychology and working for several years as a career adviser, she is now working as an independent career consultant and a seasoned resume writer. You can get in touch with Abigail on Twitter @theresumance.